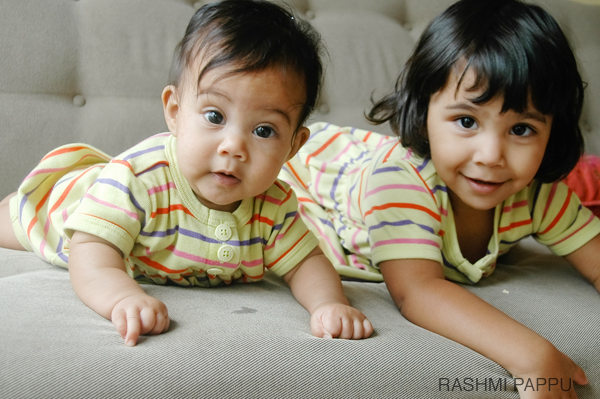 Spring 2006
There was a time in my life, after my second daughter was born, that I went through this Matching Phase. I wanted my girls to be in matching clothes. I find it funny now.. because they could not be more polar opposite in their dress sense. One is a tee shirt and shorts kind of girl, and the other must wear dresses or the sky will fall down.
Life was so much simpler then! What was I thinking in the days when this photograph was taken? I was probably obsessing over their naps. Sleep was the one thing that was on the top of my list. For them. For me. When I meet parents who are so nonchalant about naps, I am at once envious of their calmness and perturbed by their lack of obsession. They probably have easy babies. You know, those mythical creatures that are happy as clams, with or without a nap, and sleep through the night when they are six weeks old. No sleep training or anything required.
This one time, the pediatrician asked me, like he always did, if the baby was sleeping through the night. I must have been severely sleep deprived because I looked him in the eye and told him in a calm but raised voice :
"DO NOT EVER ASK ME IF MY BABY IS SLEEPING THROUGH THE NIGHT. I DO NOT BELIEVE YOU HAVE ANY SPECIAL MEDICAL TRAINING ON THIS PARTICULAR ISSUE. WHETHER SHE SLEEPS THROUGH THE NIGHT OR NOT IS NOT YOUR CONCERN".
So he replies : "I guess she isn't then?". ARRRGH.
Funnily, this sleep obsession has not gone away completely. When my older daughter comes home from school, flinging her backpack down loudly.. I feel terrible that instead of giving her a big fat hug and welcoming her home, my first words probably are 'Your sister is sleeping.. please be quiet or she will wake up!".
I always joke that if people knew about SLEEP ISSUES, they would probably never have babies.
Anyway, so, do you have one of those magical babies that sleep easily? Or are you tip toeing around your house when the baby naps, giving your husband glares when he puts a pot into the kitchen sink, making the loudest noise in the world?
And really, when DID your baby sleep through the night? Do share.
xoxo, Rashmi