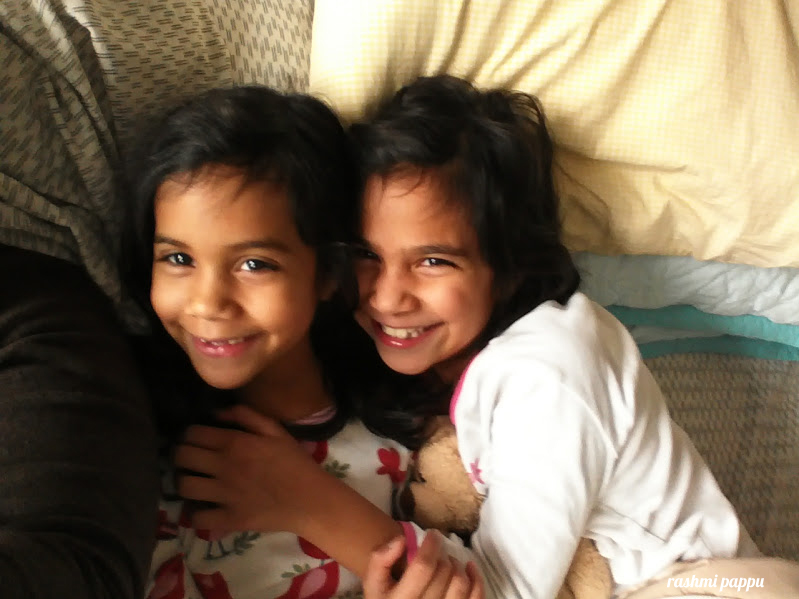 Dear girls,
It is February. The time of the year that is the least busy for me usually in terms of work. But with this new venture (the studio), I have been busy getting all the ducks lined up in a row. Which means that I have been a bit of a ghost in your lives. I didn't take any photographs of you two with my big camera this month.. so I have a camera phone photo to share.. both of you were home sick the first week in February.
Is this what being a full time working mom is like? The quick kiss goodbye in the morning, the skipping the after-school pickup so I can get 15 extra minutes of work in and having you come home in the bus? Not having lunch with you in school from time to time? Not having time to watch you play outside because I am kicking up my feet and having a cup of tea, exhausted from the day? Not making that cake I said I would make for your birthday, to share with your neighbourhood friends. Forgetting to sign that permission slip. Not finding time to iron on your girl scout patches. And where is that sash anyway? Not making your beds and arranging your guys just-so knowing that you get a giggle out of seeing them when you come home.
I have to be honest, the anxiety I feel from this new venture coupled with the guilt of being the shadow of what I could be as a mother is very very hard. I just see the trees, not the forest. The big picture feels like a puzzle made up of ten thousand pieces, something that I can't put together unless I had lots and lots of time. Sweet girls, sometimes I wake up with a feeling that I have made such a big mistake. I have always and foremost just wanted to be mom, ever since I can remember. I am just not doing that swell of a job anymore. Please forgive me. We are not signing up for spring activities, and I have not even thought about what fun to have with you two over spring break. I lose sleep at night because our summers may no longer be carefree, where we do whatever catches our fancy.
If I slow down and breathe, I know the whys. I grinned ear to ear to see you so excited about mummy's new 'shop'. But that excitement has died down and now I hear you groan when I say we have to go to the studio for a little bit because I need to finish up some work. And your groans feel selfish in that moment and annoy me because I just want to say loudly, 'I am doing this for you guys too you know!' . You are too little to understand right now. I hope one day you do and this time in our lives is not the time you look back on say, 'yeah, that is when my mother decided we were less important than her work'. It will never be true my loves. I promise. But I want to do this one thing, run this successful business, give it my all and as a byproduct make enough money to travel the world with you, to help you fulfill all your dreams, to make you proud. Forgive me in the meanwhile for falling way short of the mark as your mother. I love you both to the moon and back. To infinity and beyond. I hope you know that always my sweet girls.
Kisses and hugs, Mummy.
—
Please follow our monthly blog circle of letters… next up is the talented Debbie Wibowo whose photographs and words are both beautiful.